Slot games are one of the most fun and easiest games because it allows players to have an entertaining time whilst spinning the reels to get a chance to win the jackpot.
On top of that, most slots have themes and features that enable different players to immerse themselves more and elevate their gaming experience. One of the most used themes in slots is the Vikings.
They were able to leave a legendary mark in history, and because of that various movies and games inspired by their lore, even games such as slots.
Do you happen to be a Viking fan? Play these games at Casino Days India and you'll be able to experience the glory of the past and have the opportunity to build a fortune and win enormous rewards!
Viking Age
Provider: Betsoft
Game type: Video slots
Paylines: 30
Reels: 5
RTP: 94.30%
Minimum Bet: 0.02 credits
Maximum Bet: 150 credits
Jackpot: 1,500 credits

Face several challenges along the way and meet the mighty warriors in Viking Age slot game by Betsoft.
On its grids, you can find 30 paylines spread over five reels and three rows. Spin the reels of this video slot game with an RTP of 94.30% and get a chance to win 1,500 credits by wagering as little as 0.02 credits or as much as 150 credits.
Once you enter this game, expect to be astounded by the breathtaking sparkling blue sky and ever-green vegetation. The reels are designed in a Nordic style, with delicately carved faces and border embellishments that stand out clearly against the vividly coloured symbols on the paylines.
In this video slot game, Amma, the goddess of fortune, will appear on the screen to encourage and help you during your journey to win the jackpot prize.
Other than guiding you, she also acts as the scatter symbol of the game that activates the Multiplier free spins. Amma will take you on a journey through the stone edifice in quest of the multiplier spinners. It is possible to have your wins multiplied by the amount of the matching start and end multipliers on a payline to double your funds.
Viking Clash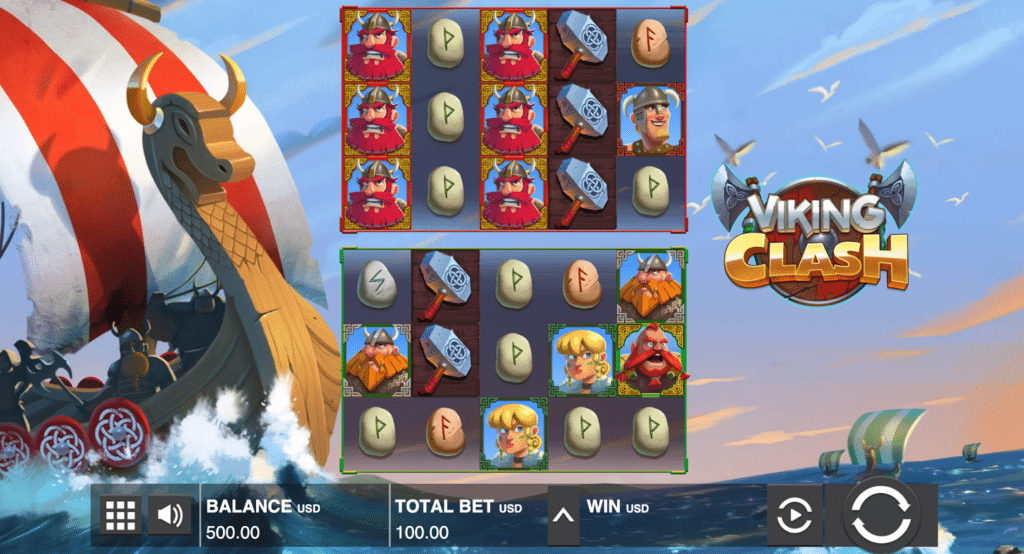 Provider: Push Gaming
Game type: Video slots
Paylines: 25
Reels: 5
RTP: 96.67%
Minimum Bet: 0.25 credits
Maximum Bet: 50,000 credits
Jackpot: 13,200x your stake

In the Viking Clash slot game, there are two grids of five reels, each with 25 potential ways to win. You have a chance to win a jackpot of up to 13,200x your stake with the lowest stake being 0.25 credits and the largest wager being 50 credits.
It is possible to construct winning combinations with a total of 11 symbols. The prizes for the various combinations vary based on the amount of money you wager.
The beautifully crafted background of a giant Viking longboat plunging into the ocean emphasised the colourful and cartoony theme of the slot. At the back, the horizon is littered with additional vessels.
Lavender-orange skies and light clouds complement the look of the scene. As a result of activating bonus games, rain and lightning begin to fall, dimming the background.
It is possible to activate the Viking battle free feature by landing three or more red catapults or three or more green cannons anywhere on the reels.
When the feature is active, Wild Shields are launched at random on the red reel set for each green cannon that is present at the time of the firing. When a Wild symbol is triggered, an extra multiplier will be added to any existing Wild symbols to increase your wins.
Colossal Vikings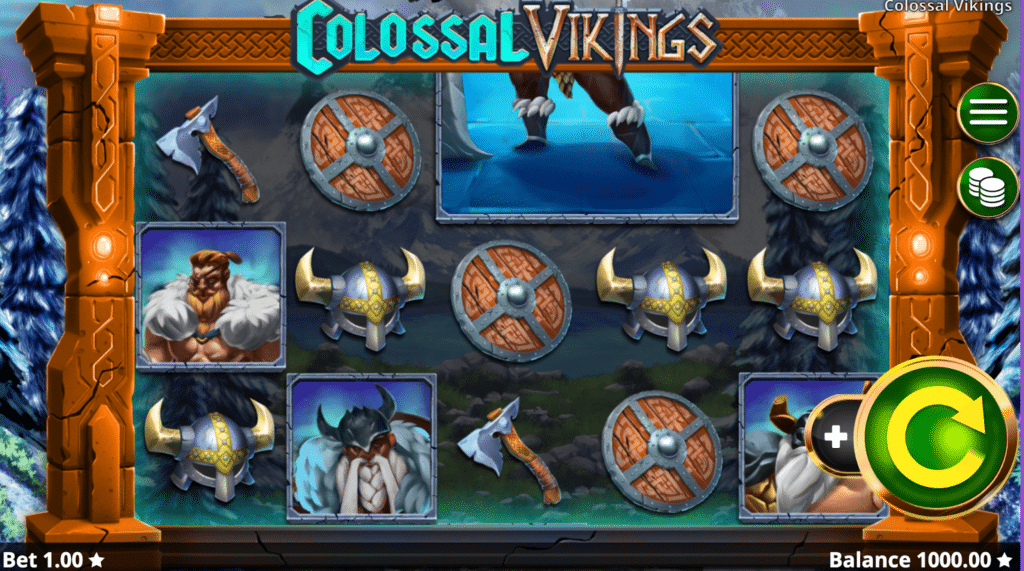 Provider: Booming Games
Game type: Video slots
Paylines: 20
Reels: 5
RTP: 95.32%
Minimum Bet: 0.40 coins
Maximum Bet: 2,000 coins
Jackpot: 4,000x your bet

Colossal Vikings is a 5-reel, 20-way-to-win casino slot developed by Booming Games that grants you up to 4,000 times your investment. A stake of 2,000 coins is the maximum amount of money that may be placed on each spin, with a minimum wager of 0.40 coins.
While playing the Colossal Vikings slot game, you'll be treated to a spectacular view of a snow-covered mountain.
Through the clear reels, one can get a good look at the massive mountain and be stunned by luminous lights and golden brown sandstone pillars with cracked designs. On top of that, you'll see the faces of the three Vikings, wearing grim expressions and ready for battle.
This slot game has a Wild symbol that awards you with multipliers when it appears. Multipliers of 2, 3, 5, or 10 times are given out at random. The casino slot machine Colossal Vikings also offer free games when three, four, or five scatter symbols fall on the screen. Depending on how many scatters you hit, you might get anywhere from 8 to 12 free spins.
Vikingdom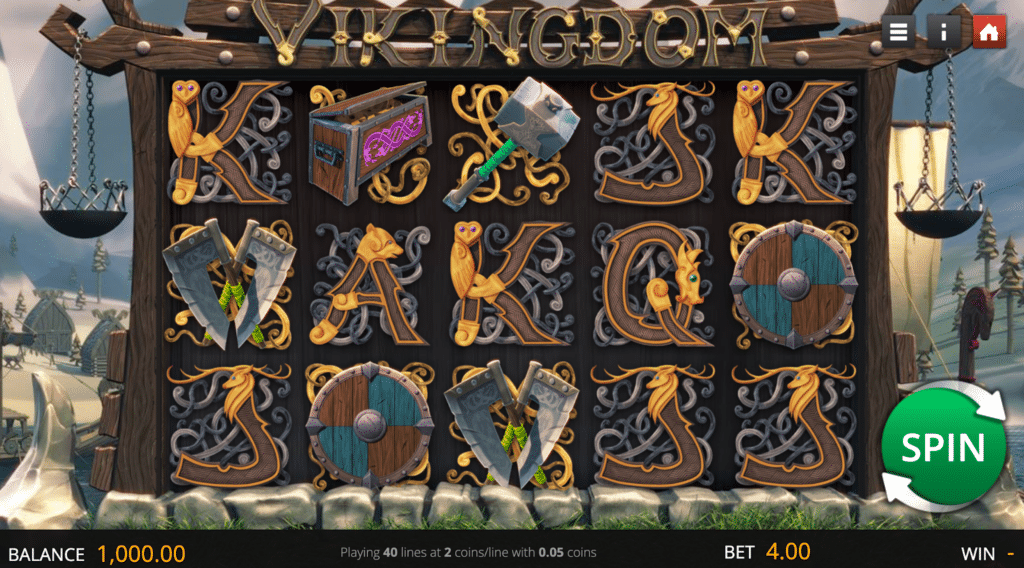 Provider: Genii
Game type: Video slots
Paylines: 40
Reels: 5
Minimum Bet: 0.1 credits
Maximum Bet: 50 credits
Jackpot: 2,000 coins

Vikingdom is a video slot game by Genii that features 5 reels and 40 paylines. Begin your adventure with the Vikings Ragnar, Helga, and Rollo on a voyage where the gods offer wealth and prosperity that are yours to possess.
Appease them by betting an amount between 0.1 credits and 50 credits to get a chance to win a whopping jackpot worth 2,000 coins!
As soon as you launch this video slot game, you will be greeted by the sounds of Nordic flutes and harps. This adventure will take you to the country of Scandinavia, where Vikings reign and seize cities.
If you manage to land a certain amount of Helga's symbols on the reels, you will be rewarded with Free Spins. During this round, all rewards are multiplied by two and all spins are played with the same stakes and lines.